Why would a site that focuses on those in the Military Community (Veterans, Active Duty, National Guard, Reserves and their families) have a page relating to safety?
The answer is because issues such as distracted driving, home safety and more affect everyone in the community, not just those who have served or are serving.
The resources provided on this page can be used by anyone in any community. Who We Serve will be frequently updating this page as new resources are identified.
Safety Resources
What equipment am I required to buy for SCUBA class?
---
None of our students are required to pre-purchase equipment before classes start. For our group classes we charge $69 per day for the rental or an entire equipment scuba system. Most student are able to complete the open water program in 2-3 days. Once you have completed the program you will be rewarded the entire rental costs back in the form or credit towards a new equipment system purchase. Equipment rental fee's are included in the price of all Private Classes. When you are ready to buy, we offer exclusive "student only" discounts you won't even find online.
---
Where will I be learning and diving during this class?
---
100% Online Practical Your entire practical training is an app based e-learning experience. We partner with the only agency in the world that does not sell paper and plastic good. RAID is the most enviromentally friendly training agency in the world. Lake Denton - Avon Park, Florida We now do almost all of our introductory training on-site at Lake Denton. We do not spend any time in a classroom with walls. 100% of your training takes place at the dive site!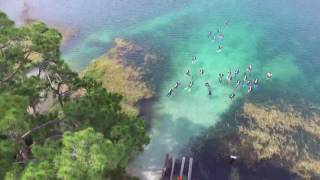 ---
---